New Study: Increased Fruit Consumption in Pregnancy Will Make Your Baby Smarter! + Fun Fruit-Filled Recipes via Vegan Chef Leslie Durso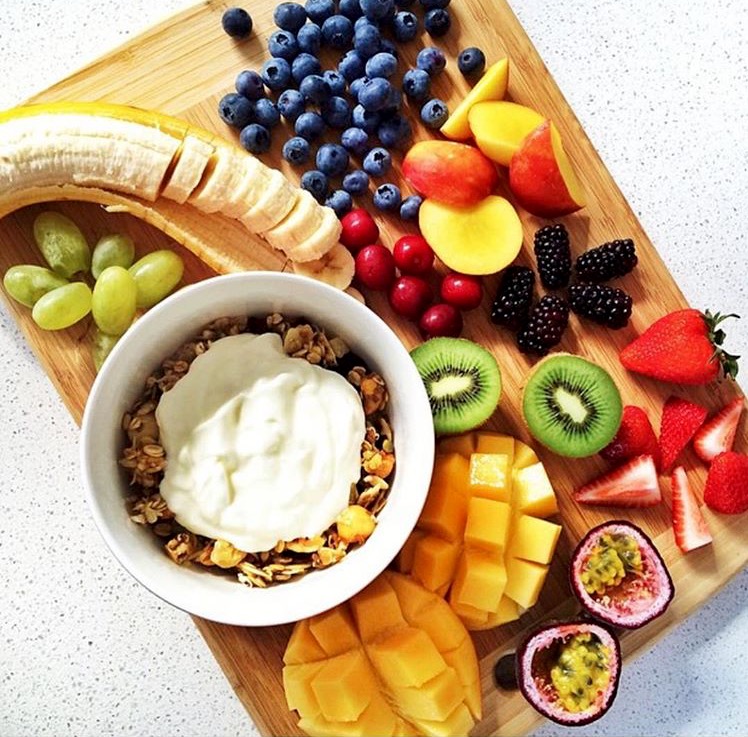 New Study: Increased Fruit Consumption in Pregnancy Will Make Your Baby Smarter! + Fun Fruit-Filled Recipes via Vegan Chef Leslie Durso
When a woman becomes pregnant about 1 million questions enter her mind and one of the most common questions is, "What should I eat??"
Well a new study has an answer: Definitely eat a lot of fruit!
A study published online on EBioMedicine supports that an increased consumption of fruit (6–7 servings; 3 cups) during pregnancy is associated with improved cognitive development in children at 1 year of age. More specifically, fruit nutrient components (lycopene, fructose) were both associated with neurodevelopment. So for all of you pregnant ladies out there that want to boost your future kiddos brain function… eat some fruit! Needing ways to sneak it in?
Here are fun fruit recipes from Celebrity Vegan Chef, Leslie Durso ( http://lesliedurso.com/ ) :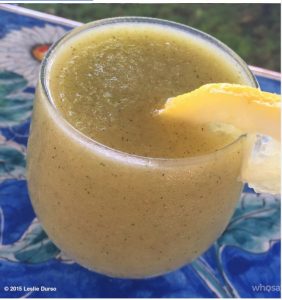 1. Refreshing San Cosma Smoothie:
Serves 1
1 apple, deseeded
2 kiwis, peeled
1 large pear
½ cucumber
the juice of ½ lemon
a handful of fresh mint
pinch of sea salt
2 cups of ice
Blend in a high powered blender and enjoy!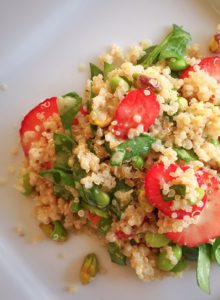 2. Quinoa and Strawberry Salad:
Serves 1
1 cup dry quinoa
1 pint strawberries
1 cup chopped fresh spinach
½ cup shelled pistachios
1 cup edamame
¼ cup chopped green onions
1 jalepeno. finely chopped
Dressing:
1 garlic clove
minced 1 tsp. whole grain mustard
2 tbsp. fresh lemon juice
¼ tsp. sea salt
¼ tsp. freshly ground black pepper
6-8 tbsp. extra virgin live oil
Cook the quinoa in water according to the package instructions. allow to cool to room temperature. Place the cooked and cooled quinoa in a large bowl and stir in all the ingredients. Dress the salad to serve.
For the dressing: Whisk all the ingredients together in a small bowl or shake in a jar.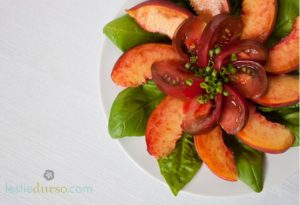 3. Heirlom Tomato and Peach Salad:
Serves 1
1 peach, sliced in wedges
1 heirloom tomato, sliced in wedges
8 basil leaves
2 sprigs of chives
1tsp. balsalmic vinegar
1tbsp. avocado or olive oil
a pinch of salt
a pinch of pepper
Arrange the peach, tomatoes, basil, and chives on your plate like a flower and drizzle with the vinegar, oil, salt and pepper. Serve immediately or chilled.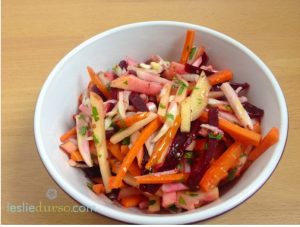 4. Apple, Beet, and Carrot Salad
Serves 2
1 apple, julienned into matchsticks
1 bulb of fennel, julienned into matchsticks
2 carrots, julienned into matchsticks
1 cooked beet, julienned into matchsticks
2 tbsp. roughly chopped cilantro
Dressing:
3 tbsp. apple cider vinegar
6 tbsp. olive oil
1 heaping tsp. whole grain mustard
1/8 tsp. salt
pepper to taste
Whisk the dressing ingredients together and pour over the rest of the ingredients in a large bowl. Gently toss.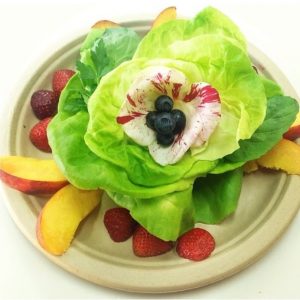 5. Blooming Garden Salad
Serves 2
1 head of boston head lettuce
1 organic peach
8 organic strawberries
6 organic blueberries
fresh herbs such as basil, parsley, tarragon, etc
edible flowers
Stack the lettuce leaves on the plate making a flower shape. garnish with the fruit.
Dressing:
1 shallot
1/3 cup apple cider vinegar
a pinch of salt
½ tsp. agave nectar or honey
2/3 cup olive oil
Combine all the ingredients in your food processor except olive oil and pulse until the shallot is finely minced. Stream in your olive oil. Serve immediately or make sure you stir in ingredients separate.
So there you have it! Fun fruit-filled recipes to make your baby Harvard ready ;
*source: Cognitive Enhancement in Infants Associated with Increased Maternal Fruit Intake During Pregnancy: Results from a Birth Cohort Study with Validation in an Animal Model http://www.ebiomedicine.com/article/S2352-3964(16)30161-X/fulltext