The Shocking Fact About Instagram That All Women Should Be Aware Of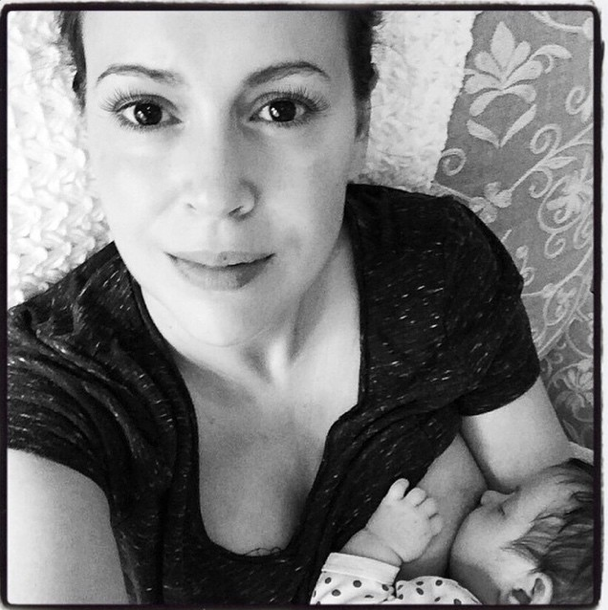 The Shocking Fact About Instagram That All Women Should Be Aware Of
Last week Instagram came out with a statement explaining that they were allowing pics of breastfeeding, otherwise known as #brealfies.
I honestly can't even believe I know that word.
Nonetheless, its a thing.
The new changes come months after Alyssa Milano, Jaime King, Alanis Morisette, and Doutzen Krous posted themselves breastfeeding for all of their followers.
Making it a thing.
Earlier this month, Krous, a Victoria's Secret model, posted a brealfie of herself pumping breast milk from her well-coveted breast and wrote, "Daily routine! I'm promoting breastfeeding, it's the best for your baby when possible! #breastfeeding #breastpump #breastfeedingmom #breastfeedingawareness."
Breastfeeding in public or on social media—or the term brealfie, as silly as it is—is not what shocked me. What shocked me is that this is even an issue considering the hundreds of bare-bottomed women and pics of headless cleavage that overwhelm the app on a daily basis. My search screen consistently shows a collage of fitness "models" wearing nothing more than a thong in hopes to get Instafamous. In fact, out of curiosity, I simply typed in niceasses in the Search bar and over thirty (three-zero) naked butts came up as profile pics. Then there are people like Dan Bilzerian, the millionaire poker player, who has literally created a career out of degrading women on social media.
Instagram had a problem with a picture of a mother breastfeeding her child, but somehow hasn't batted an eye to his picture of naked women in aprons scrubbing the floors of his bathroom or his video of women's breasts as they jump up and down with a caption that reads "The dinner argument has been settled, #underboobs crush #sideboobs"
I am not judgmental about what people do in their bedrooms and I encourage sexual liberation, but the montage of photos of women in compromising positions usually on the ground or used as props like inanimate objects that he posts for his eight million followers is dehumanizing.
Why this is not an outrage, but a mother breastfeeding her child is?
A beautiful celebrity portraying a bit of nudity in an attempt to promote something to the public that is healthy and has numerous benefits for her infant is questioned and censored, but the thousands of women portraying explicit nudity in an attempt to use their sexuality and their bodies for validation and recognition is not a problem with Instagram.
As a health care provider for women, I am here to say it should be. It is.
This is not just a problem with Instagram.
It is a problem with our society. A woman's body is beautiful and should be admired, but belittling it down to its parts and separating those parts not just from her face, but also her mind and her spirit is not admiration, it is oppression.
The nudity of women should be associated with something else besides pornography. So take your brealfie, breastfeed your child in public, show your mastectomy scars and your naked pregnant bellies. As women, let's take care of our bodies, be proud of our bodies, respect our bodies and rehumanize them.